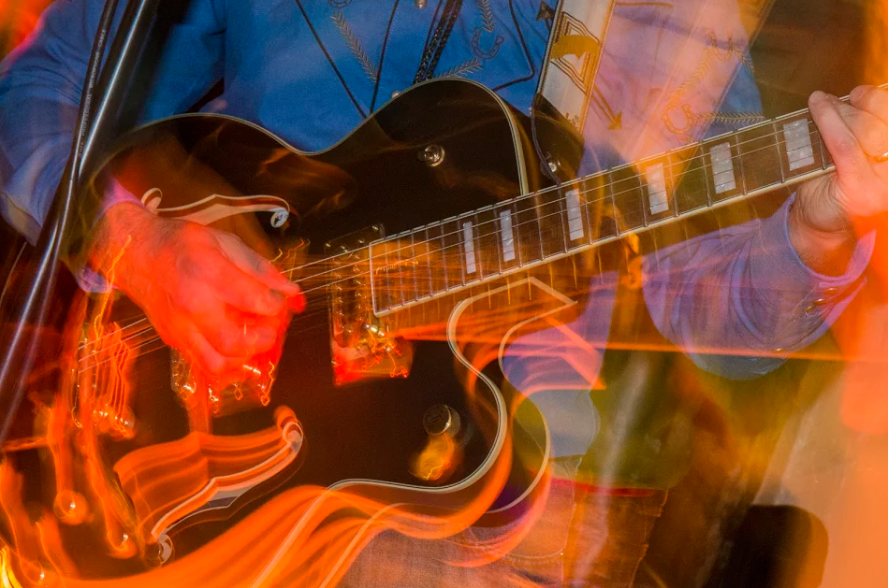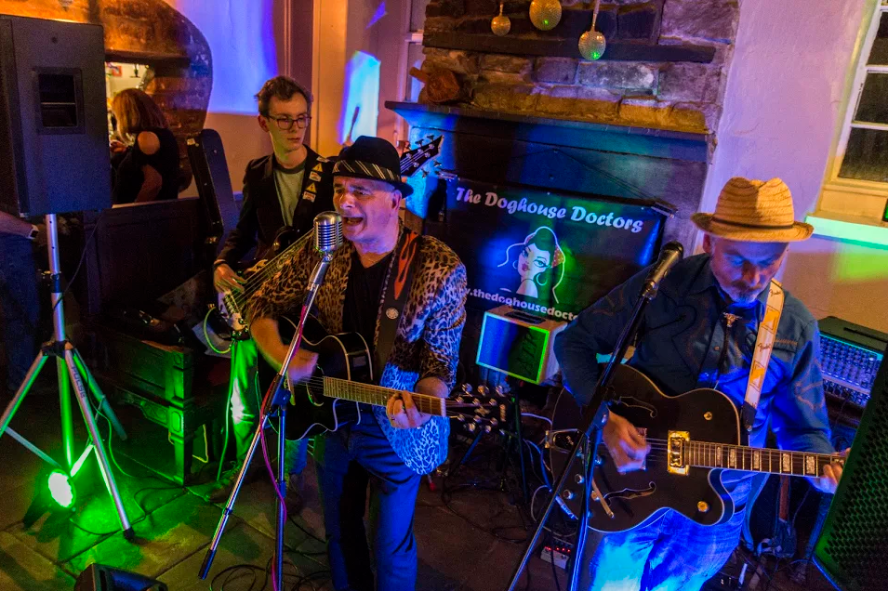 Check us out on
Hire us for your special function

introducing
The Doghouse Doctors
Pat Walsh Paul Dewey Dan Walsh
Drift back to the past and come on down and have a blast with us! Rock n Roll of the 1950's in the main is our sound. Nothing complicated (well maybe sometimes) just good quality knee jerking music from that short golden period in pop history. Let go and shake a leg to Rock Around The Clock, All Shook Up, Twenty Flight Rock and many more - yeah you know all that great stuff, even some Stray Cats if your lucky? We also breakout into original material which has a country feel and has been played several times on radio by BBC introducing who invited us in for a live studio session. Our music has the beat to make you move and hopefully makes you feel happy. Best bet is as a trio we ain't too loud so your friends can still hear you talk - don't know if that's good or bad? Anyway you don't need ear treatment afterwards and you should return home having had a fun night out. Hope this paints a bit of a picture. Oh sorry missed saying we are all over a certain age which is sad as we don't attract groupies anymore, shame but you can be one sometime if you like.
If you are interested in booking us please get in touch by clicking contact us
Many thanks for checking The Doghouse Doctors out and we hope to see you soon.
Walk Away

Original Recording 11th November 2012 at Active Audio Studios Harrogate North Yorkshire.
Stood Up Rick Nelson 1957 Cover.
Rock And Roll Ruby
Warren Smith cover 1956 Sun Records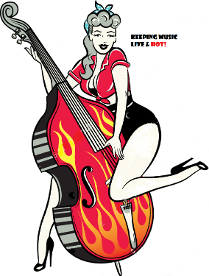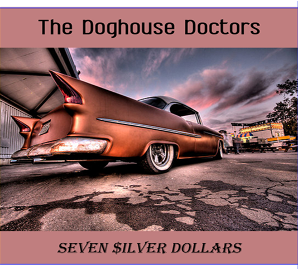 ............. News .............

August 2017 Dan Walsh joins the band as our new bass player. Dan is young and keen and will brings his own twist on things. We wish him a warm welcome!
February 18th 2017 New original material recorded at Czar Street Studios Leeds. Great place to record and practice. Home to The kaiser Chiefs. A new cd is in the making for 2017.
5th December 2016 Tempo FM interview on promotion of Merry Christmas Ho Ho Ho

19th December 2015 Band perform (Elvis cover) Blue Christmas on BBC introducing Radio York
18th December 2015. Band feature on BBC Look North Cumbria and North East and BBC Look North Yorkshire the following week.

10th December 2015 Merry Christmas Ho Ho Ho song. BBC Look North TV News - filming and interviewing the band at Active Audio Studios Harrogate who produced this track.Thanks to Dan and Frank Mizen along with the kids! Proceeds going to Yorkshire Air Ambulance.

8th December 2015. Stray FM Harrogate. Studio Interview about our 2015 charity Christmas song. Will broadcast mid December onwards.
Tempo FM: Playing the bands new Christmas song throughout December 2015.
1st December 2015 Merry Christmas Ho Ho Ho original song released and sent out to various broadcasters etc.CD available through web request.


10th October 2015 @ 8pm
The band perform live on the Jericho Keys BBC Introducing session Radio York and North Yorkshire. Listen to some acoustic performed original material and chatting about our journey. Available on BBC iplayer for 30 days.

BBC Introducing Radio York - Selected and played our new song Sixty Three to open the show on 8th August 2015. We will be in the BBC studio and on air during October 2015 discussing and playing some of our music. Tune in and check us out!
On't Sofa Prime studios Leeds. Music and video recording of new original song Sixty Three - 18 May 2015. Check it out on YouTube.

BBC Introducing Radio York And North Yorkshire - selected and broadcast our original song Little Ray Of Sunshine 22nd March 2014. Other stations may add this track to their play listings.
Harrogate Advertiser 6th March 2014. Reader Review @ Charlies place. Read article below.
Feedback
Ripley Blues
Great rockabilly and originals band who played support to the Boomtown Rats gig. Good entertainment. Booked for our Tour De France event -Andy Herrington.
Harley Davidson Leeds
Played for HOG the Humber Charity event and store promotion weekend 2015/2016. Seen them many times. Great band! Re-booked them again for HOG 2016. Cheers guys Allan and Co.
The Swan Addingham
These guys always go down well and are on our list for repeat bookings. Looking forward to next time. Thanks Jonny
The Cross Keys Knaresborough
Regular band who always pull them in on a Saturday night. We like their happy feel and they get the customers dancing and the till ringing! Pop in next time there on and enjoy! Thanks guys - Alan.

Harrogate Squash and Fitness Club
Fantastic 2016 christmas party guys. Best turnout in years. Just what the club needed to kick start it's new look and future. We want you back soon! Cheers Jim G

Saturday 23rd February The Derwent Arms Osbaldwick York
Friday 29th March The Groves Knaresborough
Saturday 11th May The Derwent Arms Osbaldwick York
Saturday 29th June The Cross Keys Knaresborough
Friday 5th July The Groves Knaresborough
Sunday 28th July (3pm)The Old Royal Oak Knaresborough
Saturday 21st September The Cross Keys Knaresborough
Saturday 5th October The Derwent Arms Osbaldwick York
Friday 29th November The Groves Knaresborough
Thanks for checking us out